What We Do
Japanese Interpreting Service
Japanese interpreting services by 100% native Japanese speakers
Companies dealing with Japanese counterparts or clients, who always appreciate the preciseness and high quality, require professional interpreters to accompany them during client handling, public relations, customer support, appointments and meetings, tours and interviews. Whether you have small one-on-one business meetings or large-scale events with Japanese, ExperTrans Global could provide professional Japanese interpretation service for your global business needs.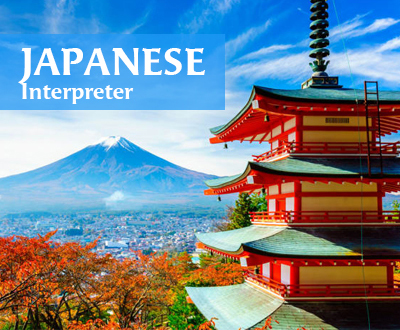 With over 400 competent Japanese interpreters, Expertrans Global Company is the number one Japanese interpreting company which you will get the best Japanese interpretation service beyond Korea territory. We offer various types of interpreting:
As an Asian Interpretation company, we have a wide pool of native Japanese interpreters with backgrounds of diversified industries. Therefore, Expertrans is one of minor Japanese interpreting agency who can provide Japanese translation services in 58 sectors, such as:
In Vietnam, for all enterprises, choosing ExperTrans Global's Japanese interpretation service means the gap to your success is shortened. Why?
One of the most experienced companies in the Japanese interpretation service in Singapore and Vietnam
We offer everything you need to ensure communication is smooth, from the translation of materials prior to the date, to the simultaneous interpreting services and equipment for the actual event.
We have a cost-effective solution for your Vietnamese interpretations needs. The prices are always clear and unchanged once signed.
Over 14 years of experience, and a vast global network of over 120 executives and 3,000 vendors, all of whom get the certificate of languages and specialized expertise.
Our Vietnamese interpretation services are also available in many countries and continents. We have served TOP 500 Fortune such as Bosch, Deutsche Bank, Mercedes-Benz, Toyota, Nestle, Samsung, Deloitte, Unilever, L'oreal, Suzuki, Yamaha, Sanofi Aventis, 11,000 projects completed and 4,500 clients served in total.
We sign NDA contract with all clients to ensure high information confidentiality.
Our interpreters not only speak the language of your customers but also the language of your industry.


Interpreting from Japanese to 50 Languages

English, Chinese, Vietnamese, Korean, Thai, Burmese, Indonesian, French, Spanish, German, Russian, Italian, Portuguese, and others.
Please feel free to consult with us regarding any language.

Simultaneous Interpretation Equipment and Services

We offer simultaneous interpretation equipment and services that satisfy conference needs by providing the best tools, including booths and receivers, and coordinating interpreters.
For general information, or to book an interpreter, please contact
Our Expertrans Global always gives prominence to quality and prestige in every project and hopes to provide the best services to every client. Contact ExperTrans Global now in order to keep your opportunity to expand your business into Japanese markets.